The right music for the right people is essential in establishing atmosphere in your restaurant, but it doesn't come without its headaches. Whenever copyright and other laws come into play, there are bound to be a few questions about music licensing stirred up in the mix.
A lot of new business owners think it'd be nice to let their personal Spotify subscription play its course in their venue, but not only is that potentially time-consuming, it's actually illegal and could end up costing you some huge fines.
From Performing Rights Organizations (PROs) to personal vs business streaming options, we've broken down some of the complexities surrounding music licensing for bars and restaurants.


Background VS Foreground Music Licensing
To start, it's important to note the difference between foreground and background music, as both require different licences and costs.
If you're wondering whether your venue needs foreground music licensing or not, think about these 4 questions:
1. Do you charge a cover fee for entrance?
2. Do you have a dance floor in the venue?
3. Is there a person manipulating/playing the music, such as a DJ, band, or otherwise?
4. Are you in the Family Entertainment Center or fitness business?
If you've answered "yes" to any of these questions, you will require a foreground music licence. In that case, the background license will most likely be redundant as many proprietors are only required to have one or the other.
Basically, the major difference between these two is how central the music is to your venue. For example, a bar that's featuring a live cover band or DJ will require a foreground music licence. And a restaurant that just wants background music for ambiance, needs a background music licence.
If it seems like there's a lot of grey area between these two licensing types, it's because there is! Agencies know that every venue is unique, and the only way to fully understand your business licensing requirements is by speaking to an agency directly.
For the remainder of this article, we'll focus solely on background licensing for the sake of clarity, consistency, and resourcefulness.


"Okay, so, where do I even start?!"
It might seem like a desperate question, but it's fair—copyright is complex!
In a nutshell, the majority of music we listen to is protected by copyright law. (Royalty free music exists, but it's doubtful that you'd want to play "Twinkle Twinkle Little Star" and the like at your venue.)
Copyright law grants exclusive rights to the copyright owner to play or perform their songs. Songwriters, composers, and music publishers will join a Performing Rights Organization (PRO) which must be sought out to obtain rights to play their music at a venue. The challenge, however, is that there isn't just one PRO to find when looking for a decent variety of music.
In the USA and Canada, these are the 6 main PROs that protect intellectual property and collect royalties:
1. BMI: Broadcast Music, Inc.
2. GMR: Global Music Rights
3. ASCAP: American Society of Composers, Authors and Publishers
4. SESAC: Society of European Stage Authors and Composers
5. SOCAN: The Society of Composers, Authors and Music Publishers of Canada
6. RE:SOUND: Canadian not-for-profit music licensing company
Each of these PROs will represent a variety of different artists, and that's where the challenge really comes in. Some places opt to pay all PROs with a blanket licensing fee, some may pick and choose which they're interested in. This can end up costing anywhere from $370 a year, with a single licence from BMI for example, or even $4,000 a year—as Ben Slocum, co-owner of Beards Brewery in Petoskey MI, told Petoskey News-Review in 2018.


"Are there any exceptions to the rule?"
Well, kinda.
Depending on how many screens and speakers you have, and the square footage of your venue (3,750 square feet or less), you may be able to play radio or music television stations without paying PRO fees. There are a few other qualifications required, so if you think this might be the option you're looking for, you'll want to peruse the National Restaurant Association's specifications on these exemptions.
It's important to keep in mind, however, that even if you do fit into this small category of restaurants/bars, you're not covered for extra efforts such as karaoke nights or a live cover band, as mentioned previously.


"Can I just go ahead and play music from my phone/computer anyway?"
No!!!
Sorry for being so blunt right off the bat there, but that's a horrible idea. It's likely that your location will be contacted by a PRO representative and, in this case, the next in a long line of lawsuits against venues. For an example of just how bad it can get if you don't play by the rules, CBS News wrote about the recent $150 million Peloton lawsuit.
Nowadays, these copyright holding companies have online bots in place that will flag your business if/when it catches any mention of music, live, background or otherwise. It's simply not worth it to risk the "it won't happen to me" mentality!
At first glance, it may seem like these companies are blood-thirsty hunters, waiting for a bar to make a mistake—but musicians, producers and songwriters are losing an estimated 2.65 billion dollars a year from businesses illegally streaming their work. Public performance music licensing actually does help artists a lot.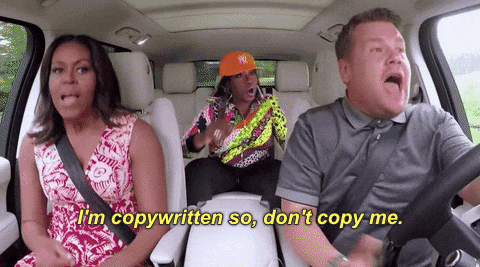 via GIPHY

"So, what's the solution here?"
Sure, streaming services like Spotify, Pandora, and the like, do offer a variation of their product specifically for businesses, but that comes with its own set of problems.
Firstly, how much time are you really willing to spend on selecting music, creating and updating playlists, keeping up with the billboard charts, fixing any technical issues that might arise, and so on? One solid playlist or channel is going to either bore or, at worst, annoy your guests. Not to mention, this is time that could be spent on actually managing your business!
As discussed earlier, playing the radio might be okay if you're a small enough venue, but now you're at the mercy of whatever station you've tuned in to. This means half of the time you're listening to ads—which could even be promoting your competitors—and the other half is filled with repetitive radio playlists and DJ talk.
If you want to create a real vibe in your place, create ambiance that fits your brand, and get the attention of your guests, you need to take your efforts a step further.
The best way to guarantee your background music is fully licensed, accessible, and fits your business' specific needs/vibe, is with Control Play. Not only are you able to get your music licensing covered easily across ASCAP, BMI, SESAC, GMR, SOCAN and RE:SOUND, but the service is dedicated to getting the right music for the right guests at your establishment. Control Play sends you hardware that comes fully loaded with thousands upon thousands of songs and an ever-expanding library. With your subscription, you'll also get access to playlist experts who will curate custom playlists for you, and even schedule the music/music videos you want.
There's so much Control Play can offer you when it comes to audio/visual solutions.
You can see a quick video on how it works here or click the button below for a live demo!